Referral Rewards - Universal Drugstore™
2.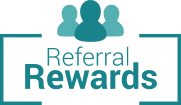 UDS Referral Rewards
For every new friend or family member who you refer to Universal Drugstore, you will receive 5,000 Wellness Rewards points applied to your account. This is a $50 value for each referral, that you can use to discount future orders!
We will also give each friend you refer 5,000 Wellness Rewards points that they can apply to their future orders.
There is no limit to the number of referrals you can make, and no limit to the amount of points you can collect.
Referring your friends is easy
Simply fill in your friend's name and email address on the form below to join our Referral Program and send them your referral invitation.
When your friend places an eligible order using your Customer Number, you will receive credit for their order.
Referral Program Terms
Both you and the customer that you are referring must agree to be Wellness Rewards program members.
The customer you refer must place an order worth at least $100 to qualify as a referred customer. Points will be applied to both you and your referral 30 days after their order has shipped.
The customer that you refer must notify us at the time they place their order that you are referring them.
If the referred customer cancels or returns their order, they will no longer qualify as a referred customer, and any Wellness Rewards points awarded will be revoked.