Colchicine
Generic Alternative to Colcrys
Generic Choice
What is a generic medication?
Generic medications are significantly discounted copies of brand name medication that have the same active ingredients, intended use, dosage, side effects, effects, and route of administration as the original brand name medication. In other words, generic medications have the same pharmacological effects as their brand-name counterparts. Over half of all prescribed medications are for generic medications.
0.5mg Tablets
No brand name is available for Colcrys 0.5mg.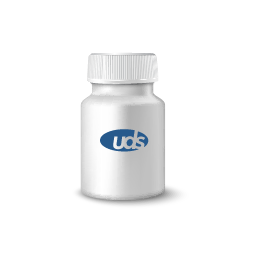 Manufactured by A UK MHRA approved Generic Manufacturer
Product of United Kingdom • Shipped from United Kingdom

Prescription Required
0.6mg Tablets
No brand name is available for Colcrys 0.6mg.

Marketed as Sandoz-Colchicine in Canada
Manufactured by Sandoz
Product of Canada • Shipped from Canada

Prescription Required
Colchicine Drug Information
Are you paying too much for Colchicine? Save up to 80% when purchasing your prescription drugs from Universal Drugstore. Our prescription service aspires to conveniently provide you with affordable medications at the lowest prices in Canada and internationally.
We're working with a number of Canadian and international pharmacy partners, all licensed by their qualified governmental regulatory bodies. By collaborating with our partners, we are able to offer a wide range of brand and generic medications at very competitive prices. You can obtain discount prescription drugs through our online pharmacy. Our prices are already up to 80% lower than your local pharmacy. We are committed to providing you with the best service and prices. This is why we'll match the price of any of our online pharmacy competitors who require a valid prescription.
Order Colchicine at a discount price today!
Why Buy Colchicine from Universal Drugstore?
We are the global leader in online prescription drug savings with almost 20 years of experience supplying prescription and over the counter drugs to our international customers. More than 300,000 international patients have used our service to receive their prescription and over-the-counter medications.
In the past two decades together with our international pharmacy partners we have shipped over 2 million prescription medication orders to our satisfied customers.
Your safety is our top priority. You can feel completely secure purchasing through us. We use SSL encryption to secure all of your personal information that is transferred through our website while using our service.
How Long Does It Take to Receive My Colchicine Order?
You can easily place an order on our website in under 5 minutes. First you need to set up an account with us, create a payment method, and send us your prescriptions. Alternatively, you can order by downloading our order form or by placing an order over the phone. Delivery can take approximately 2 to 3 weeks to North America, and 4 to 6 weeks to other countries.
Colchicine Drug Information
Colchicine Overview

Colchicine is used to prevent or treat gout attacks (flares). Usually gout symptoms develop suddenly and involve only one or a few joints. The big toe, knee, or ankle joints are most often affected. Gout is caused by too much uric acid in the blood. When uric acid levels in the blood are too high, the uric acid may form hard crystals in your joints. Colchicine works by decreasing swelling and lessening the build up of uric acid crystals that cause pain in the affected joint(s). Colchicine is also used to prevent attacks of pain in the abdomen, chest, or joints caused by a certain inherited disease (familial Mediterranean fever). It is thought to work by decreasing your body's production of a certain protein (amyloid A) that builds up in people with familial Mediterranean fever. Colchicine is not a pain medication and should not be used to relieve other causes of pain.

How to Use Colchicine

Read the Medication Guide provided by your pharmacist before you start taking colchicine and each time you get a refill. If you have any questions regarding the information, ask your doctor or pharmacist. Take Colchicine by mouth with or without food, exactly as directed by your doctor. Dosing recommendations vary widely and may be different from the following recommendations. Taking more than the recommended dose may not increase Colchicine's effectiveness and may increase your risk for side effects. Ask your doctor or pharmacist for more details. If you are taking Colchicine to treat a gout attack, carefully follow the directions given by your doctor. Colchicine works best if you take it at the first sign of an attack. The recommended dose is 1.2 milligrams at the first sign of an attack, followed by 0.6 milligrams one hour later. The maximum recommended dose is 1.8 milligrams taken over a 1-hour period. Ask your doctor ahead of time about how soon you can repeat treatment with Colchicine if you have another gout attack. If you are taking Colchicine to prevent gout attacks or for pericarditis, ask your doctor about the dose and schedule you should follow. Carefully follow your doctor's directions. If you are taking Colchicine to prevent attacks of pain caused by familial Mediterranean fever, the usual dose is 1.2 to 2.4 milligrams daily. The total dose may be taken once daily or divided into two doses a day. Your doctor may need to adjust your dose to control your symptoms or if you have side effects. The Dosage of Colchicine is based on your medical condition, other drugs/foods you may be taking, and response to treatment. To reduce your risk for serious side effects, do not increase your dose, take it more frequently, or take it for a longer time than directed by your doctor. Serious side effects may occur even at usual prescribed doses. If your doctor directs you to take colchicine regularly, use it regularly to get the most benefit from it. To help you remember, take it at the same time(s) each day. Avoid eating grapefruit or drinking grapefruit juice while being treated with Colchicine unless your doctor instructs you otherwise. Grapefruit can increase the amount of certain medications in your bloodstream. Consult your doctor or pharmacist for more details. If you are taking Colchicine to treat symptoms due to familial Mediterranean fever, tell your doctor if your condition does not improve or if it worsens.

Colchicine Precautions

Before taking Colchicine, tell your doctor or pharmacist if you are allergic to it; or if you have any other allergies. Colchicine may contain inactive ingredients, which can cause allergic reactions or other problems. Talk to your pharmacist for more details. Before using Colchicine, tell your doctor or pharmacist your medical history,kidney problems, liver problems (such as cirrhosis). Alcohol can decrease Colchicine's effectiveness. Limit alcohol while taking Colchicine. Colchicine can affect how well your body absorbs some foods and nutrients (such as vitamin B12). Consult your doctor or pharmacist for more details. Before having surgery, tell your doctor or dentist about all the products you use (including prescription drugs, nonprescription drugs, and herbal products). Older adults may be more sensitive to the side effects of Colchicine, especially muscle weakness/pain and numbness/tingling in their fingers or toes. Colchicine can decrease sperm production, which may affect the ability of a male to father a child. Consult your doctor for more information. During pregnancy, Colchicine should be used only when clearly needed. Discuss the risks and benefits with your doctor. Colchicine passes into breast milk. While there have been no reports of harm to nursing infants, consult your doctor before breast-feeding. Your doctor may recommend that you separate the time(s) you take your medication apart from breast-feeding.

Colchicine Misdose

If you are taking colchicine regularly and miss a dose, take it as soon as you remember. If it is near the time of the next dose, skip the missed dose. Take your next dose at the regular time. Do not double the dose to catch up.

Colchicine Interactions

See also How to Use and Precautions sections. The effects of some drugs can change if you take other drugs or herbal products at the same time. This can increase your risk for serious side effects or may cause your medications not to work correctly. These drug interactions are possible, but do not always occur. Your doctor or pharmacist can often prevent or manage interactions by changing how you use your medications or by close monitoring. To help your doctor and pharmacist give you the best care, be sure to tell your doctor and pharmacist about all the products you use (including prescription drugs, nonprescription drugs, and herbal products) before starting treatment with Colchicine. While using Colchicine, do not start, stop, or change the dosage of any other medicines you are using without your doctor's approval. Other medications can affect the removal of colchicine from your body, which may affect how colchicine works or increase the risk of serious side effects. Examples include certain azole antifungals (such as itraconazole, ketoconazole), diltiazem, HIV medications (such as ritonavir), macrolide antibiotics (such as clarithromycin, erythromycin), telithromycin, verapamil, among others. Colchicine may rarely cause a certain serious (even fatal) muscle damage (rhabdomyolysis). This muscle damage releases substances that can lead to serious kidney problems. The risk may be increased if other drugs that may also cause rhabdomyolysis are taken along with colchicine.digoxin, gemfibrozil, pravastatin, simvastatin, among others. Colchicine may interfere with certain laboratory tests, possibly causing false test results. Make sure laboratory personnel and all your doctors know you use Colchicine. This document does not contain all possible drug interactions. Keep a list of all the products you use. Share this list with your doctor and pharmacist to lessen your risk for serious medication problems.

Colchicine Side Effects

Diarrhea, nausea, cramping, abdominal pain, and vomiting may occur. If any of these effects persist or worsen, tell your doctor or pharmacist promptly. Remember that your doctor has prescribed Colchicine because he or she has judged that the benefit to you is greater than the risk of side effects. Many people using Colchicine do not have serious side effects.unusual bleeding/bruising, severe diarrhea or vomiting, muscle weakness or pain, numbness/tingling in your fingers or toes, pale or gray color of the lips/tongue/palms of hands, signs of infection (such as fever, persistent sore throat), unusual weakness/tiredness, fast heartbeat, shortness of breath, signs of kidney problems (such as change in the amount of urine). A very serious allergic reaction to Colchicine is rare. However, seek immediate medical attention if you notice any symptoms of a serious allergic reaction,rash, itching/swelling (especially of the face/tongue/throat), severe dizziness, trouble breathing. This is not a complete list of possible side effects. If you notice other effects not listed above, contact your doctor or pharmacist. Call your doctor for medical advice about side effects. You may report side effects to FDA at 1-800-FDA-1088 or at www.fda.gov/medwatch. In Canada - Call your doctor for medical advice about side effects. You may report side effects to Health Canada at 1-866-234-2345.

List of Colchicine side effects

Colchicine Storage

Store at room temperature away from light and moisture. Do not store in the bathroom. Keep all medications away from children and pets. Do not flush medications down the toilet or pour them into a drain unless instructed to do so. Properly discard Colchicine when it is expired or no longer needed. Consult your pharmacist or local waste disposal company.
IMPORTANT DISCLAIMER: All medical content is supplied by a third party company who is independent from this web site. As such, this web site can not guarantee the reliability, accuracy, and /or medical efficacy of the information provided. In all circumstances, you should seek the advice of a health professional pertaining to drug, treatment and/or medical condition advice. Note that not all products are shipped by our contracted Canadian pharmacy. This website contracts with dispensaries around the world that ship products directly to our customers. Some of the jurisdiction include but are not limited to United Kingdom, Europe, Turkey, India, Canada, Vanuatu, Mauritius, and USA. The items within your order may be shipped from any one of these jurisdiction depending on the availability and cost of the products at the time you place your order. The products are sourced from these countries as well as others. Please note that the product appearance may vary from actual product received depending on availability.