Rheumatrex
and/or alternatives
Chemical Ingredient:
Methotrexate
Generic Choice
What is a generic medication?
Generic medications are significantly discounted copies of brand name medication that have the same active ingredients, intended use, dosage, side effects, effects, and route of administration as the original brand name medication. In other words, generic medications have the same pharmacological effects as their brand-name counterparts. Over half of all prescribed medications are for generic medications.
2.5mg Tablets
No brand name is available for Rheumatrex 2.5mg.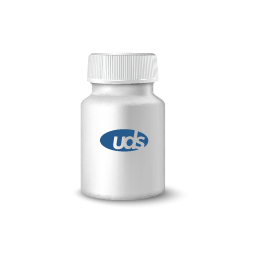 Manufactured by A UK MHRA approved Generic Manufacturer
Product of United Kingdom • Shipped from United Kingdom

Prescription Required
Also available in Canada
More details
Marketed as PMS-Methotrexate in Canada
Manufactured by Pharmascience Inc.
Product of Canada • Shipped from Canada

Prescription Required
Rheumatrex Drug Information
Are you paying too much for Rheumatrex? Save up to 80% when purchasing your prescription drugs from Universal Drugstore. Our prescription service aspires to conveniently provide you with affordable medications at the lowest prices in Canada and internationally.
We're working with a number of Canadian and international pharmacy partners, all licensed by their qualified governmental regulatory bodies. By collaborating with our partners, we are able to offer a wide range of brand and generic medications at very competitive prices. You can obtain discount prescription drugs through our online pharmacy. Our prices are already up to 80% lower than your local pharmacy. We are committed to providing you with the best service and prices. This is why we'll match the price of any of our online pharmacy competitors who require a valid prescription.
Order Rheumatrex at a discount price today!
Why Buy Rheumatrex from Universal Drugstore?
We are the global leader in online prescription drug savings with almost 20 years of experience supplying prescription and over the counter drugs to our international customers. More than 300,000 international patients have used our service to receive their prescription and over-the-counter medications.
In the past two decades together with our international pharmacy partners we have shipped over 2 million prescription medication orders to our satisfied customers.
Your safety is our top priority. You can feel completely secure purchasing through us. We use SSL encryption to secure all of your personal information that is transferred through our website while using our service.
How Long Does It Take to Receive My Rheumatrex Order?
You can easily place an order on our website in under 5 minutes. First you need to set up an account with us, create a payment method, and send us your prescriptions. Alternatively, you can order by downloading our order form or by placing an order over the phone. Delivery can take approximately 2 to 3 weeks to North America, and 4 to 6 weeks to other countries.
Methotrexate Drug Information
Rheumatrex Overview

Methotrexate is used to treat certain types of cancer or to control severe psoriasis or rheumatoid arthritis that has not responded to other treatments. It may also be used to control juvenile rheumatoid arthritis. Methotrexate belongs to a class of drugs known as antimetabolites. It works by slowing or stopping the growth of cancer cells and suppressing the immune system. Early treatment of rheumatoid arthritis with more aggressive therapy such as methotrexate helps to reduce further joint damage and to preserve joint function.

Rheumatrex Warnings

Methotrexate has rarely caused serious (sometimes fatal) side effects. Therefore, Rheumatrex should be used only to treat cancer or severe diseases caused by an overactive immune system (such as psoriasis, rheumatoid arthritis). Methotrexate has caused birth defects and death in unborn babies. Women must avoid becoming pregnant while taking Rheumatrex. Pregnant women who have psoriasis or rheumatoid arthritis must not use methotrexate. (See also Precautions section.) If you have kidney problems or excess body water (ascites, pleural effusion), you must be closely monitored and your dose may be adjusted or stopped by your doctor. Methotrexate (usually at high dosages) has rarely caused severe (sometimes fatal) blood/bone marrow problems (decreasing your body's ability to fight infections) and stomach/intestinal disease (such as bleeding) when used at the same time as non-steroidal anti-inflammatory drugs (NSAIDs such as indomethacin, ketoprofen). Therefore, NSAIDs should not be used with high-dose methotrexate. Caution is advised if you also take aspirin. NSAIDs/aspirin may be used with low-dose methotrexate such as for the treatment of rheumatoid arthritis if directed by your doctor. If your doctor has directed you to take low-dose aspirin for heart attack or stroke prevention (usually at dosages of 81-325 milligrams a day), you should continue taking it unless your doctor instructs you otherwise. Ask your doctor or pharmacist for more details on the safe use of these drugs (such as close monitoring by your doctor, keeping the same doses of NSAIDs). In rare instances, Rheumatrex may also cause liver problems when Rheumatrex is used for long periods of time. If you are using methotrexate long term, a liver biopsy is usually recommended. Methotrexate use has rarely caused serious (sometimes fatal) side effects, such as lung problems, lung infections (Pneumocystis jiroveci pneumonia), skin reactions, diarrhea, and mouth sores (ulcerative stomatitis). (See also Side Effects section.) Lumps (tumors/abnormal growths) may very rarely appear during methotrexate use. The drug must be stopped and treatment may be needed. Tell your doctor right away if new lumps/growths occur. When used to treat tumors, methotrexate sometimes causes side effects due to the rapid destruction of cancer cells (tumor lysis syndrome). To lower your risk, drink plenty of fluids unless your doctor directs you otherwise. Also, your doctor may prescribe an additional medication. Tell your doctor right away if you have symptoms such as irregular heartbeat, low back/side pain, signs of kidney problems (such as pink/bloody urine, change in the amount of urine, painful urination), or muscle spasms/weakness. When Rheumatrex is used with radiation treatment, it may rarely increase the risk of tissue and bone damage. Discuss the risks and benefits of your treatment with your doctor.

How to Use Rheumatrex

Read the Patient Information Leaflet if available from your pharmacist before you start taking methotrexate and each time you get a refill. If you have any questions, ask your doctor or pharmacist. Methotrexate is a strong medication. The dosage and how often you take Rheumatrex are based on your medical condition and response to treatment. There are many different dosing schedules for Rheumatrex (especially for cancer treatment). Taking Rheumatrex the wrong way may cause serious side effects, including death. Therefore, it is very important that you follow your doctor's instructions carefully. Take Rheumatrex by mouth as directed by your doctor. For the treatment of psoriasis or rheumatoid arthritis, take Rheumatrex by mouth as directed by your doctor, usually once a week. It may take up to several months before you get the full benefit of Rheumatrex. If you are using the liquid form of Rheumatrex, carefully measure the dose using a special measuring device/spoon. Do not use a household spoon because you may not get the correct dose. Do not increase your dose or use Rheumatrex more often or for longer than prescribed. Your condition will not improve any faster, and your risk of side effects will increase. Since Rheumatrex can be absorbed through the skin and lungs and may harm an unborn baby, women who are pregnant or who may become pregnant should not handle Rheumatrex or breathe the dust from the tablets. Drink plenty of fluids while taking Rheumatrex unless your doctor tells you otherwise. Doing so helps your kidneys to remove the drug from your body and avoid some of the side effects.

Rheumatrex Precautions

Before taking methotrexate, tell your doctor or pharmacist if you are allergic to it; or if you have any other allergies. Rheumatrex may contain inactive ingredients, which can cause allergic reactions or other problems. Talk to your pharmacist for more details. Before using Rheumatrex, tell your doctor or pharmacist your medical history,liver disease, kidney disease, lung disease (such as pulmonary fibrosis), alcohol use, suppressed immune system, blood cell/bone marrow disorders, stomach/intestinal diseases (such as peptic ulcer, ulcerative colitis), any active infection (including chickenpox or recent exposure to it), folic acid deficiency. Methotrexate can make you more likely to get infections or may worsen any current infections. Therefore, wash your hands well to prevent the spread of infection. Avoid contact with people who have infections that may spread to others (such as chickenpox, measles, flu). Consult your doctor if you have been exposed to an infection or for more details. Do not have immunizations/vaccinations without the consent of your doctor. Avoid contact with people who have recently received live vaccines (such as flu vaccine inhaled through the nose). To lower the chance of getting cut, bruised, or injured, use caution with sharp objects like razors and nail cutters, and avoid activities such as contact sports. Rheumatrex may make you dizzy or drowsy. Alcohol or marijuana (cannabis) can make you more dizzy or drowsy. Do not drive, use machinery, or do anything that needs alertness until you can do it safely. Avoid alcoholic beverages. Talk to your doctor if you are using marijuana (cannabis). Before having surgery, tell your doctor or dentist about all the products you use (including prescription drugs, nonprescription drugs, and herbal products). Rheumatrex may make you more sensitive to the sun. Limit your time in the sun. Avoid tanning booths and sunlamps. Use sunscreen and wear protective clothing when outdoors. Tell your doctor right away if you get sunburned or have skin blisters/redness. Methotrexate must not be used during pregnancy. It may harm an unborn baby. It is important to prevent pregnancy during and after treatment with methotrexate. Therefore, males and females must use reliable forms of birth control (such as condoms, birth control pills) during treatment. Males should continue to use birth control for at least 3 months after the end of treatment. Females should continue to use birth control for at least 6 months after the end of treatment. If you become pregnant or think you may be pregnant, tell your doctor right away. Since Rheumatrex can be absorbed through the skin and lungs and may harm an unborn baby, women who are pregnant or who may become pregnant should not handle Rheumatrex or breathe the dust from the tablets. Methotrexate passes into breast milk and may harm a nursing infant. Therefore, breast-feeding while using Rheumatrex is not recommended. Consult your doctor before breast-feeding.

Rheumatrex Misdose

It is important to take each dose at the scheduled time. If you miss a dose of Rheumatrex, contact your doctor or pharmacist right away to establish a new dosing schedule. Do not double the dose to catch up.

Rheumatrex Interactions

Drug interactions may change how your medications work or increase your risk for serious side effects. This document does not contain all possible drug interactions. Keep a list of all the products you use (including prescription/nonprescription drugs and herbal products) and share it with your doctor and pharmacist. Do not start, stop, or change the dosage of any medicines without your doctor's approval.acitretin, asparaginase, chloramphenicol, leflunomide, other drugs that can cause kidney problems (such as cisplatin), other drugs that can cause liver problems (such as azathioprine, sulfasalazine, retinoids such as isotretinoin), penicillins, phenytoin, probenecid, procarbazine, pyrimethamine, sulfa medications, tetracyclines. Certain drugs that reduce stomach acid (proton pump inhibitors-PPIs such as esomeprazole, omeprazole, pantoprazole) may increase the amount of methotrexate in your blood. This effect may increase the risk of side effects, especially with high-dose methotrexate treatment. Ask your doctor or pharmacist for details and ways to lessen the risk of side effects.

Rheumatrex Side Effects

What are Rheumatrex side effects?

Side effects are physical, mental or emotional symptoms which occur in addition to or outside of the desired effect of a therapeutic treatment such as an over-the-counter or prescribed drug or medication. Side effects from Rheumatrex may occur at the beginning or at the end of treatment and may also depend on the length of time an individual remains on the treatment. Side effects, also known as adverse effects, are generally more likely to occur when starting treatment. Individuals may also experience side effects from Rheumatrex as a result of an interaction with other medications.

Side Effects of Rheumatrex

The side effects of Rheumatrex may vary in number and intensity for many different reasons. Factors such as age, weight, gender and ethnicity may influence the side effects of Rheumatrex. Also, an individual's state of general physical health and seriousness of the disease or illness as well as an increase or decrease in dosage may lead to side effects. Further, side effects from Rheumatrex may also occur as a result of an interaction with certain herbal supplements, foods or drinks.

Prescription drug side effects can be serious and may cause patients to stop the treatment. However, when side effects from the use of a prescription drug, such as Rheumatrex, do occur a patient should consult their physician. A physician may prescribe an additional treatment in order to control the symptoms or an adjustment in the dosage may be made. In addition, changes to diet, exercise or other lifestyle activities may help to lessen the side effects of Rheumatrex.

By understanding side effects and the factors which may influence the occurrence of side effects patients are empowered to take an active role in their care. Patients who have specific questions about the side effects of Rheumatrex, or any other medication, should contact their physician. General information about Rheumatrex and the side effects associated with Rheumatrex are described in the following:

Common Rheumatrex Side Effects

Severe

bacterial sepsis
bacterial infection
thrombocytopenic disorder
aphthous stomatitis
gastrointestinal ulcer
gastroenteritis
intestinal perforation
gastrointestinal hemorrhage
skin photosensitivity
azotemia

Less Severe

gingivostomatitis
anorexia
nausea
vomiting
dizziness
fatigue
malaise

Less Frequent Rheumatrex Side Effects

Severe

leukopenia
chemical arachnoiditis
leukoencephalopathy
interstitial pneumonitis
pulmonary fibrosis
hepatic necrosis
hepatic cirrhosis
drug-induced hepatitis
anemia

Less Severe

abnormal hepatic function tests
furunculosis
pruritus of skin
alopecia
acne vulgaris
skin rash
chills
fever
pharyngitis
diarrhea

Rare or Very Rare Rheumatrex Side Effects

Severe

agranulocytosis
eosinophilia
increased cerebrospinal fluid pressure
cutaneous vasculitis
alveolitis
acute hepatic failure
hepatic fibrosis
renal failure
Stevens-Johnson Syndrome
exfoliative dermatitis
avascular necrosis of bone
proteinuria
toxic epidermal necrolysis
aplastic anemia
Pneumocystis jirovecii pneumonia
pancytopenia
seizure disorder
subacute necrotizing encephalomyelopathy
Erythema Multiforme
respiratory insufficiency
kidney disease with reduction in GFR
neutropenic disorder
pericardial effusion
pericarditis
deep venous thrombosis
arterial thrombosis
Thrombosis of Retinal Vein
cerebral thrombosis
thrombophlebitis
pulmonary thromboembolism
transient blindness
hemiplegia
encephalopathy
fracture
diabetes mellitus
Chemotherapy-Induced Hyperuricemia
Anaphylaxis
Pulmonary Hemorrhage

Less Severe

oligospermia
Stinging of Skin
cystitis
hematuria
headache disorder
drowsy
blurred vision
dysarthria
aphasia
acute confusion
conjunctivitis
arthralgias
libido changes
lymphadenopathy
tinnitus
infection

Rheumatrex Storage

Store the tablets at room temperature away from light and moisture. Do not store in the bathroom. Keep all medications away from children and pets. Store the liquid form in the refrigerator or at room temperature. If stored at room temperature, discard after 60 days. Do not flush medications down the toilet or pour them into a drain unless instructed to do so. Properly discard Rheumatrex when it is expired or no longer needed. Consult your pharmacist or local waste disposal company.
IMPORTANT DISCLAIMER: All medical content is supplied by a third party company who is independent from this web site. As such, this web site can not guarantee the reliability, accuracy, and /or medical efficacy of the information provided. In all circumstances, you should seek the advice of a health professional pertaining to drug, treatment and/or medical condition advice. Note that not all products are shipped by our contracted Canadian pharmacy. This website contracts with dispensaries around the world that ship products directly to our customers. Some of the jurisdiction include but are not limited to United Kingdom, Europe, Turkey, India, Canada, Vanuatu, Mauritius, and USA. The items within your order may be shipped from any one of these jurisdiction depending on the availability and cost of the products at the time you place your order. The products are sourced from these countries as well as others. Please note that the product appearance may vary from actual product received depending on availability.